Behind all the glitz and glamour of the entertainment industry lies a lesser-known fascination that transcends the red carpets and flashing cameras. Even celebrities cannot seem to escape the irresistible thrill and excitement that accompanies gambling. Whether they're navigating the highs and lows of table games or going all-in on enticing sports bets, these celebrities certainly know how to unwind and roll the dice when the time is right. 
It's no wonder that there are also many celebrity-inspired no-deposit online slots too. With so many stars flocking to Vegas and other popular casino resorts across the US, we'd be surprised if they wouldn't have featured in such games.
1. Ben Affleck 
Ben Affleck may have won the jackpot when he rekindled his romance with Jennifer Lopez, marrying the singer last summer. However, what many people might not know is that the Batman actor is no stranger to having luck on his side, winning $444,496 in the California State Poker Championship back in 2004.
Although a decade later, Affleck was reportedly banned for life from playing blackjack at the Hard Rock casino in Las Vegas. Security was called to escort the Argo star out of the casino after he was accused of counting cards at a high rollers' table.
Although not specifically illegal, counting cards is frowned upon and is grounds for a lifetime ban from a casino establishment. Affleck also attended Molly Bloom's high-stakes poker games in the mid-2000s, which were the focus of the Aaron Sorkin film Molly's Game.
2. Matt Damon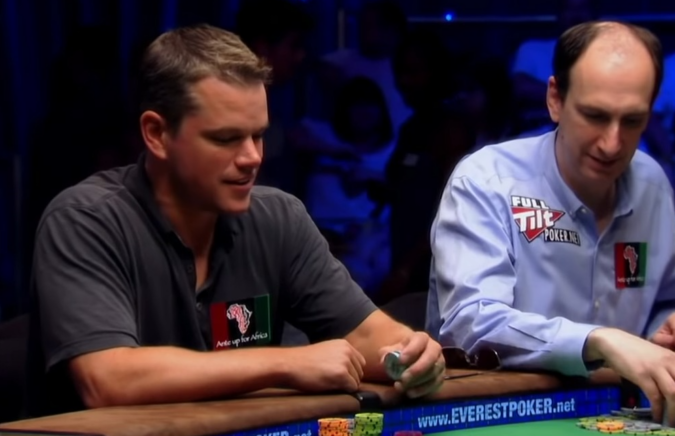 Matt Damon caught the gambling bug while preparing for his role in Rounders, frequently attending various poker games with his best friend, Ben Affleck. "The Martian" actor spent a considerable amount of time honing his skills, participating in various poker games throughout his acting career.
Damon even tried his luck at the 1998 World Series of Poker, where he lost $25,000 to the two-time World Series Poker Main Event champion, Doyle Brunson. He also took part in the 2009 Ante Up for Africa event, a poker tournament known for donating all proceeds to charity. Although Damon's winning records are not publicly available, they are known to be substantial, as his love for the game continued far beyond the premiere of Rounders.
3. Michael Jordan
Michael Jordan's gambling habits have been well-documented since the basketball superstar was in high school, with his passion for the lucrative pastime increasing once he joined the league.
Determined to win at all costs, Jordan brought his competitive spirit to the casino floor, routinely playing poker until the break of dawn during the 1992 Olympics in Barcelona. The athlete would even go as far as to bet on which of his teammates would get their luggage first at the airport.
While the Hall of Famer may have incurred some hefty losses throughout his illustrious career, both on and off the court, one of his most famous gambling victories was recalled in Roland Lazenby's book, Michael Jordan: The Life. In it, he details how one night Jordan made a $500,000 wager while gambling at Connecticut's Mohegan Sun. The risky bet eventually paid off as not only did Jordan win his money back, but he left around $600,000 richer.
4. Toby Maguire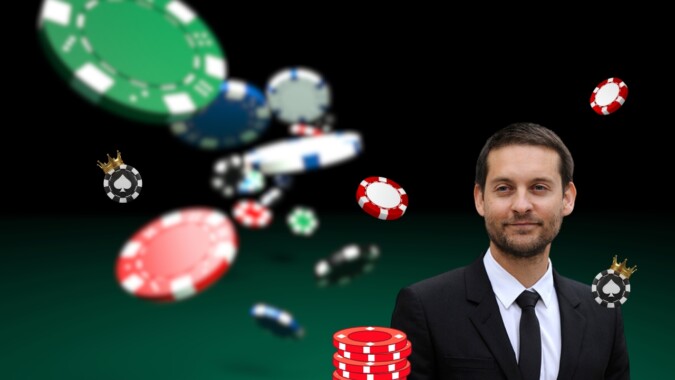 Everybody's favorite neighborhood Spider-Man is also a fearless poker player, reportedly amassing over $10 million in winnings throughout his career. While poker may be a casual hobby for some celebrities, for Maguire, some may call it a second career. The actor has been involved in dozens of poker and online casino games, winning as many times as he has laid down his chips.
The charming actor also formed part of the infamous underground poker ring that included actors like Leonardo DiCaprio, Ben Affleck, baseball star Alex Rodriguez, and Instagrammer Dan Bilzerian. Although Molly Bloom, whose autobiography Molly's Game inspired the film of the same name, did not actually reveal the players by name, it is widely believed that Player X is Maguire.
5. Ashton Kutcher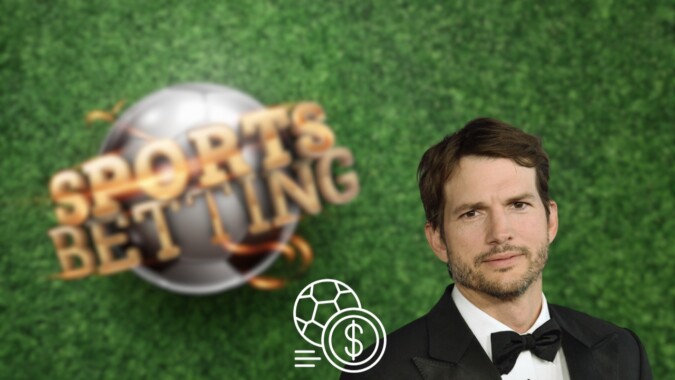 Unlike the other celebrity counterparts on this list, the That '70s Show alum made a name for himself in the sports betting industry. In fact, the actor once formed part of the largest sports betting organization in the USA.
Throughout this period, Kutcher managed to secure $750,000 by placing bets on college football. Although, for the most part, Kutcher relied on the network of professional sports bettors to guide his decision-making, the Two and a Half Men star still managed to walk away with a nice chunk of change for minimal effort.
6. Floyd Mayweather 
Floyd Mayweather has never been shy about flaunting his wealth, frequently posting photos of himself carrying around stacks of cash all over social media. His nickname, 'Money,' extends far beyond the boxing ring, with Mayweather frequently wagering around seven figures on sports bets.
One of his biggest reported wins occurred during the 2013 NBA Playoffs when he risked $5.9 million on the Miami Heat. The bet truly paid off, earning the champion boxer a profit of well over $5 million as the Miami Heat beat the Indiana Pacers by 23 points.
Mayweather also won a $1.4 million payout after betting $720,000 on the Indianapolis Colts to beat the Jacksonville Jaguars. He even tried to bet $400,000 on himself for his 2017 boxing match against Conor McGregor, although this never materialized as the M Resort could not determine whether they could allow it. Despite this, Mayweather continues to be one of the biggest bettors on the Las Vegas Strip, consistently contributing to his endless fortune.
7. Jennifer Tilly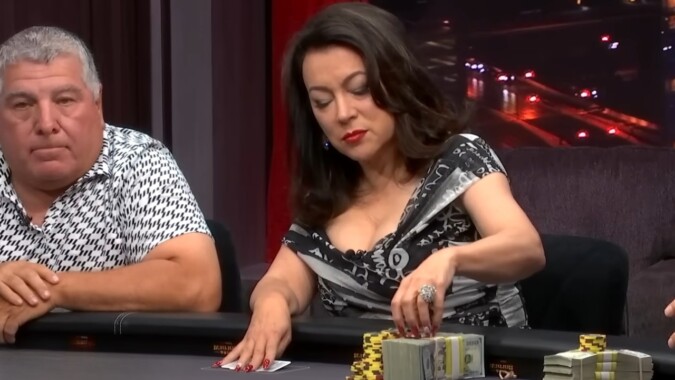 Jennifer Tilly is one of the very few celebrities who actually tried to make a serious career out of gambling. Following a successful stint in Tinseltown, starring in movies like Made in America, Liar Liar, and Bride of Chucky, the actress decided to set her sights on the ultimate prize by participating in the lucrative poker scene in the mid-2000s.
Tilly's efforts, participating in several tournaments and cash games, quickly paid off as the star successfully won the 2005 WSOP Ladies No-Limit Hold'em Championship, bagging the $158,625 prize pool. She also appeared in several gambling-related shows, such as Bravo's Celebrity Poker Showdown and GSN's Poker Royale. The actress decided to hang up her professional poker chips in 2005, opting to enjoy it as a hobby rather than a career.